About Us
Here's to clean burning candles!
We are Cordova Candle Co.  An independent candle company out of Victoria, BC. Our candles are ethically produced in small batches using sustainable ingredients and packaging. 
All of our candles are hand-poured in our studio using 100% natural soy wax for a clean and safe burn. Our wicks are made of a lead and zinc free braided cotton and all our products are free from parabens, phthalates, sulfates, petroleum, carcinogenic and animal-derived ingredients. Our mission is simple: to create candles with captivating scents and the best ingredients.
Our scents are inspired by nature and travel, moments and memories.
We ship our candles with recyclable packaging including bio-degradable packaging peanuts made of starch that completely dissolve in water. 
We encourage our customers to reuse or recycle our candle vessels rather than them ending up in a landfill.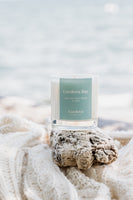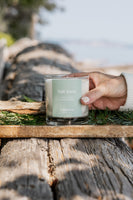 JAR RETURN
Help us reduce our waste and environmental foot print by returning your used candle jars to be recycled into new ones.  Because we use 100% natural soy wax, we are able to easily clean up the glasses and reuse them for the next batch of candles, doing our bit for the planet one jar at a time.
You will receive a custom code when you return your used candle jars.  Get $2.00 off per jar which can be used on a future order. 
When returning your finished candle jars, don't worry if there's wax left in the jar, we will clean them and get them ready for their new owner. 
You can drop off your candle jar at:
Cordova Candle Co. 981 Abbey Road, Victoria BC or contact cordovacandleco@gmail.com to arrange drop-off,
Amelia Lee Boutique (Uptown) Uptown Mall, Victoria BC
CANDLE CARE
Before lighting, trim candle wick to 1/4". Keeping your wick at this length will avoid mushrooming which can result in unnecessary soot and smoke.
The first time you light our candles, it's important to let the candle melt pool reach the edges of the vessel. 
Do not burn your candle for more than 4 hours at a time.  For maximum performance, burn the candle for 2 to 4 hours at a time.  Discontinue use if the wick has moved off centre. 
To avoid overheating your vessel never burn your candle all the way down. When a 1/4" of wax remains it is time to reuse or recycle your vessel.
If soot forms on the inside of the vessel, extinguish the candle, wait for it to cool, wipe the vessel with a clean damp cloth. Trim the wick and relight. 
Keep your candle out of reach of children and/or pets.  Keep lit candle away from flammable items and never leave it unattended.
Follow the burning instructions on the sticker on the bottom of your candle.
About Soy Wax
Soy is an all natural, clean burning wax, 100% vegan, cruelty-free and free of petroleum. Made from the oil of soybeans, not only making it a safe and natural alternative to petroleum-based paraffin, but also renewable and biodegradable. 
Unlike paraffin wax, soy wax does not release toxins and harmful carcinogens into the air while burning. Soy candles will burn cleanly and slowly all the way down and lasts up to 30-50% longer, producing approximately 90% less soot than paraffin wax. 
Since soybeans are vegetables, soy wax is naturally biodegradable, making it easier to remove from the candle container after burning, easier to clean up if spilled on other surfaces, and comes out of clothing in the wash.
About our Fragrances
We use only phthalate free fragrance oils and all natural essential oils.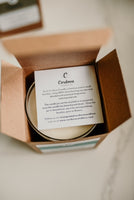 Add a greeting card along with a custom message!
Whatever the occasion, a personal touch makes every order more special! Enter a personal note, and the address of where your order is to be sent and we will send to your loved ones.
Add a greeting card along with a custom message!
Whatever the occasion, a personal touch makes every order more special! Enter a personal note, and the address of where your order is to be sent and we will send to your loved ones.
Testimonials
My daughter bought me a lovely gift set for Mother's Day which included your Super Woman candle. It is the nicest smelling and burning candle I have used to date! Please keep making it.

Carolynne
Let customers speak for us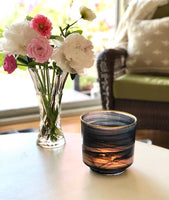 CANDLE REFILL PROGRAM
In our ongoing efforts to support sustainability and actively reduce waste, Cordova Candle has created a candle refill program.
Do you have a vessel that's special to you? Does it fit perfectly in your home decor? Let us make it into a candle for you! Simply choose any scent from any of our Collections for your refill. You can even pick a new scent each time!
Bring in a heat safe vessel with a non-porous interior (tin/sealed metal, ceramic, terracotta, or concrete, tempered glass), that is suitable for high temperatures and is larger than 2.5cm in diameter. Upon drop-off we will evaluate your vessel for approval.
Please ensure the vessel is freshly cleaned - if we are required to clean it there will be a $5 additional cleaning fee. You'll receive a call or email when your candle is ready for pick up. Payment is required upon pickup.
Prices as follows:
unscented soy candles: $1.50 /oz
premium fragrance oil candles: $2.50 / oz